Revolutionize Your Review Management With These Powerful Features
Review Generation
Our software sends automated text messages to your customers for their feedback, so you don't have to spend time chasing reviews manually.
Review Management
Our software allows you to review, and respond to customer reviews directly from the platform.
Survey tools
Our software allows you to conduct surveys to gather customer feedback, so you can gain insights into what customers like and dislike about your storage facility.
Automation
Our software integrates with the most popular facility management software providers and automates the entire process so you can focus on your facility.
Advanced Reporting
Our software provides detailed analytics and reports on your customer feedback, so you can see how your business is performing and identify areas for improvement.
Pricing Plans For All Different Facility Sizes. 
Pricing is based on the amount of units you have. Less units, less messages, more savings.
100-250 Units
$79 Per Month
Multiple Locations? Contact us for a multi-facility discount.
Fill Out The Form To Be Contacted
Need More Information? Schedule a call to learn more.
Fill Out The Form To Be Contacted To Schedule A Call
Works Seamlessly With The Following Management Software. 
More Integrations Coming Soon




A simple yet powerful and efficient process
01
Connect to management software: Our software seamlessly integrates with popular storage facility management software, allowing you to easily access and manage customer information. This feature eliminates the need to manually enter customer data, saving you time and reducing errors.
02
Send review requests: Our software allows you to send review requests to new move-ins, new move-outs, and current tenants. This feature ensures that you are gathering feedback from all customers, not just a select few. You can also customize the email template and schedule the review requests to be sent at specific times.
03
Survey users: Our software allows you to survey users who leave 1-3 star ratings instead of asking them to leave a review. This feature provides you with valuable feedback that can help you identify areas for improvement, and gives you the opportunity to make changes before negative reviews are posted.
04
Track and respond to reviews: Our software allows you to track and respond to customer reviews in real-time. This feature allows you to stay on top of customer feedback, address any concerns, and demonstrate your commitment to customer satisfaction.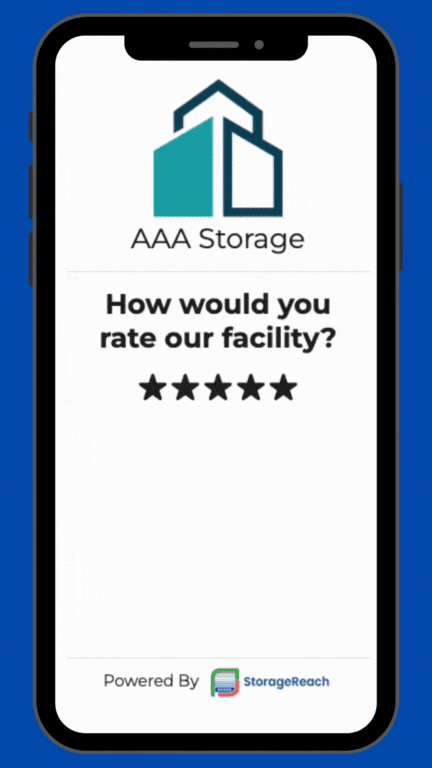 Why reviews matter for your facility
Online reviews are more important than ever for businesses in the storage industry. They provide valuable insights into customer satisfaction and can make or break a potential customer's decision to rent a storage unit at your facility. Here are a few reasons why reviews are crucial for the success of your storage facility, backed by data:
*Initial release is scheduled for April 15th. Sign up for early access and get your setup fee waived.
Positive reviews can help boost your facility's online visibility, making it more likely that potential customers will find your business when searching for storage solutions. In fact, according to a study by BrightLocal, 88% of consumers trust online reviews as much as personal recommendations.
Reviews provide social proof that other customers have had positive experiences with your facility, which can increase trust and lead to more conversions. A study by Inc.com found that businesses with a high number of positive reviews are likely to see an 18% increase in sales.
Having more positive reviews than your competitors can give you a competitive advantage, making your facility more attractive to potential customers. A study by ReviewTrackers found that businesses with higher review ratings are more likely to win new customers.
Having positive reviews can also improve your SEO. Google uses online reviews as a ranking factor, so having positive reviews can help boost your website's visibility in search results. (Source: MOZ)
Why reviews matter for your facility
Online reviews are more important than ever for businesses in the storage industry. They provide valuable insights into customer satisfaction and can make or break a potential customer's decision to rent a storage unit at your facility. Here are a few reasons why reviews are crucial for the success of your storage facility, backed by data:
Get started now and elevate your storage facility's reputation